Offering Bowl Depicting Mercury and Maia or Rosmerta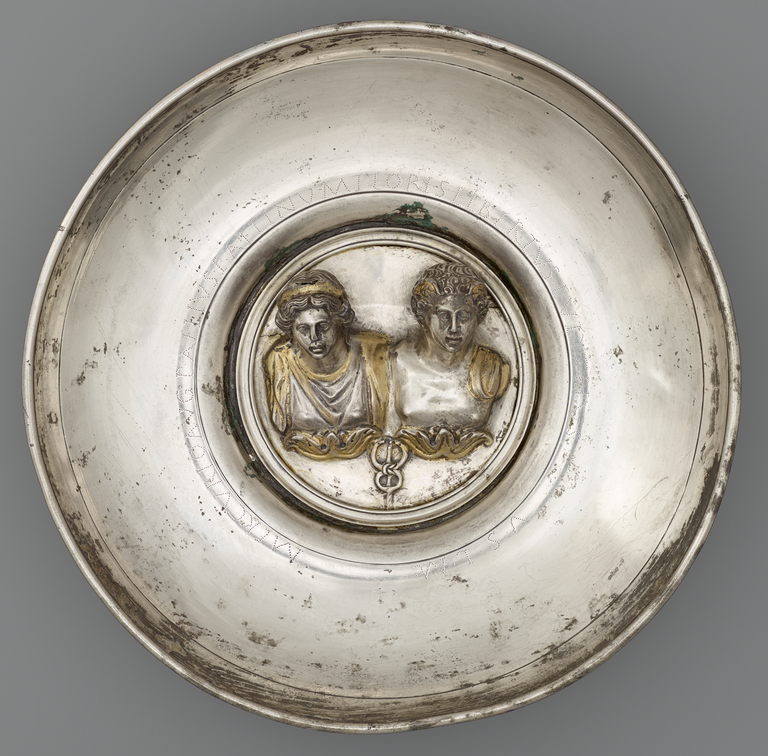 Offering Bowl with Busts of Mercury and Maia or Rosmerta
Description:
Medium:

Silver and gold
Dimensions:

H. 5.4 cm; Diam. 22.2 cm
Context:

Berthouville, France
Date:

Roman, 150–225 CE
Inventory Number:

inv. 56.17
Lender:

Bibliothèque nationale de France, Paris
Tahnee Cracchiola © Getty-BnF
The Latin inscription, which is incised around the outside of the central medallion, reads:
MERCVRIO AVG P AELIVS P AELI NVMITORIS LIBERTVS EVTYCHVS VSLM
Translation: To Augustan Mercury, Publius Aelius Eutychus, the freedman of Publius Aelius Numitor, fulfilled his vow willingly as merited.