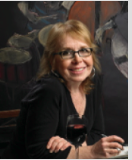 Exhibition Gallery Event: Sketch Morning
Joan Chiverton
Fashion Institute of Technology
Please join illustrator and teaching artist Joan Chiverton for a morningof sketching in the galleries in conjunction with the exhibition Devotion and Decadence. Develop your drawing skills and discover a new way of seeing as you sketch Roman silver masterpieces and other ancient luxury objects. Following a brief introduction and tutorial, Ms. Chiverton will circulate the galleries and provide individual coaching, if desired. All skill levels are welcome, from beginner to advanced. Participants should bring their own drawing pad or paper with a board. Gallery specific pencils will be provided by ISAW. For conservation reasons pens, pastels, charcoal, and paints need to be kept at home.
Joan Chiverton is an illustrator. Her clients include The New York Times, Wall Street Journal and numerous other publications. She is represented by the gallery, The Old Print Shop and has been in numerous group and one-person shows. Previous to her illustration career, Joan was an award winning art director/creative director, working with ad agencies in NYC and upstate NY. Ms. Chiverton teaches at the Fashion Institute of Technology, and is on the Board of The Society of Illustrators.
Unless otherwise indicated, public events sponsored by ISAW take place on the first or second floor of our building. Both floors are accessible by elevator from our entry lobby, and an ADA-compliant bathroom is available in the basement level, which is also accessible by elevator. Our Lecture Hall is equipped with an FM assistive listening transmitter. A small number of personal receivers, compatible with headphones and hearing aids, are available for checkout from staff on a first-come, first-served basis.