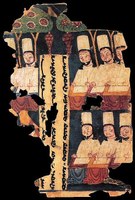 Manichaean priests, writing at their desks. Eighth or ninth century manuscript from Gaochang, Tarim Basin, China -- https://www.wikiwand.com/
16th Annual Leon Levy Lecture
Mobile Cosmopolitanism: Diversity and Exchange in the Uyghur Steppe Empire (744-840)
Michael R. Drompp
Rhodes College
This lecture will take place online; a Zoom link will be provided via email to registered participants.
Registration is required at THIS LINK.

The Leon Levy Lecture is supported by the Peter Jay Sharp Foundation and the Leon Levy Foundation.
Study of the "Silk Roads" has helped to greatly expand our knowledge of the movement of people, ideas, and goods as well as the influences that they exerted on various cultures throughout Eurasia. Scholars have often looked to China's Tang dynasty (618-907) as an example of the cosmopolitanism that such exchanges promoted. But there are other, less obvious polities that developed cosmopolitan tendencies as well. One of these is the steppe empire of the Uyghurs, whose political center was in what is today Mongolia. With an economy based primarily on mobile (or "nomadic") pastoralism, the Uyghurs developed and sustained a sophisticated and literate culture that supported a diverse population engaged in the building of cities, international trade, and the practice of Manichaeism as the state religion. While such developments are perhaps unexpected in a pastoral society, this lecture will examine the evidence that illustrates the significant characteristics of this "mobile cosmopolitan" culture of Inner Asia.
Michael R. Drompp is Professor of History (Emeritus) at Rhodes College in Memphis, Tennessee, where he taught courses on the history of Inner Asia and East Asia for more than thirty years. Dr. Drompp earned his Ph.D. at Indiana University; there he studied the cultures, languages, and histories of Inner Asian peoples, with emphasis on the political cultures and historical development of steppe empires as well as the dynamic interactions between mobile pastoralists and cultivators. His publications focus on the history of early Turkic peoples from the sixth to ninth centuries C.E. (particularly the Türks, Uyghurs, and Kirghiz), the inner workings of their polities, and their relations with neighboring peoples, especially China. He has delivered scholarly talks in North America, Asia, and Europe, and is managing editor of the Brill's Inner Asian Library academic series. He has also served as President of the American Oriental Society and the Tang Studies Society. At Rhodes Dr. Drompp received the Clarence Day Dean's Award for Outstanding Teaching in 1999 and the College's Distinguished Service Medal in 2022.
Please check isaw.nyu.edu for event updates.
ISAW is committed to providing a positive and educational experience for all guests and participants who attend our public programming. We ask that all attendees follow the guidelines listed in our community standards policy.