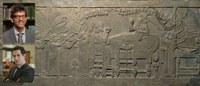 Wine and Feasting in the Ancient Mediterranean with Professors d'Alfonso and Kotsonas
On Monday, March 22nd, Lorenzo d'Alfonso, Professor of Western Asian Archaeology and History and Antonis Kotsonas, Associate Professor of Mediterranean History and Archaeology, gave a virtual presentation in collaboration with NYU Alumni Association. We are pleased to share the recording with our community.
Cultural practices centered on wine consumption, especially feasting, are characteristic of the Mediterranean for much of antiquity. In this presentation, Professors d'Alfonso and Kotsonas will discuss the remarkable spread of such practices, as well as the development of fascinating localized traditions.
Please check isaw.nyu.edu for event updates. 
ISAW is committed to providing a positive and educational experience for all guests and participants who attend our public programming. We ask that all attendees follow the guidelines listed in our community standards policy.