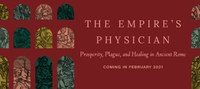 Exhibition Lecture: Galen's Gynaecology
Rebecca Flemming
University of Cambridge
This lecture will take place online; a Zoom link will be provided via email to registered participants.
Registration is required at https://www.eventbrite.com/e/galens-gynaecology-registration-149267058791
This lecture is given in conjunction with ISAW's exhibition The Empire's Physician: Prosperity, Plague, and Healing in Ancient Rome. The exhibition is made possible by generous support from the Stavros Niarchos Foundation (SNF) and the Leon Levy Foundation. Additional support provided by Dr. Angelo D. Reppucci.
Unlike his hero Hippocrates, Galen did not write any dedicated gynaecological texts, in part because he was committed to an integrated vision of the medical art. For him, the female body, in sickness and in health, was essentially a variation on the male theme. On the other hand, he did discuss women's anatomy and physiology at length in his general works and he certainly counted female patients amongst his clientele. This lecture will explore his ideas about women's bodies as they related to his therapeutic activities: how did theory and practice interact? Did he, in fact, treat his female patients differently?
Please check isaw.nyu.edu for event updates.
ISAW is committed to providing a positive and educational experience for all guests and participants who attend our public programming. We ask that all attendees follow the guidelines listed in our community standards policy.