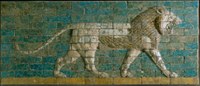 Reconstructed panel of bricks with a striding lion Neo-Babylonian Period; Processional Way, El-Kasr Mound, Babylon, Iraq; CC0 1.0 Image courtesy of The Metropolitan Museum of Art
Friday Evening Exhibition Tour
Peter Moore Johnson
The Institute of Fine Arts, NYU
Free Exhibition Tour Every Friday:
Fridays, November 6–May 24, 6:00pm
Join us in the galleries for an in-depth discussion of the exhibition A Wonder to Behold: Craftsmanship and the Creation of Babylon's Ishtar Gate. In this tour, participants will engage in a guided conversation exploring the specific history, iconography, and transformative power of ancient Near Eastern craftsmanship as it relates to the creation of Babylon's Ishtar Gate and Processional Way.
Each weekly gallery talk will be presented by one of the Exhibitions staff. This tour will be given by Peter Moore Johnson.
Registration is not required.
ISAW is committed to providing a positive and educational experience for all guests and participants who attend our public programming. We ask that all attendees follow the guidelines listed in our community standards policy.