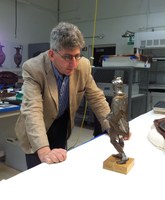 Antiquities curator Kenneth Lapatin in the antiquities conservation studio at the Getty Villa with the statuette of Mercury from the Berthouville Treasure (Roman, 100 B.C.-A.D. 200. Silver, 14 5/8 in. high. Bibliothèque nationale de France
Exhibition Lecture: A Roman Temple Treasure
The Berthouville Silver and Its Contexts
Kenneth Lapatin
J. Paul Getty Museum
Discovered accidentally by a farmer in rural Normandy in 1830, the spectacular hoard of gilt silver statuettes and exquisitely crafted vessels known as the Berthouville Treasure was originally dedicated to the Gallo-Roman god Mercury. After four years of painstaking conservation by Getty Museum conservators, viewers can now appreciate the splendor of these artifacts and the insights they provide about ancient art, religion, technology, and cultural exchange. This lecture explores those topics, and more, offering a fresh look at these rare survivals of ancient Roman metal work.
Kenneth Lapatin is curator of antiquities at the J. Paul Getty Museum in Los Angeles. A graduate of Berkeley and Oxford, he has excavated in Greece, Italy, Israel, and England, both above ground and under water, and has curated exhibitions on topics ranging from Athenian vases, polychrome sculpture, Hellenistic bronzes, Palmyran reliefs, and ancient gems to antiquity in the Middle Ages and the modern reception of Pompeii. He is the author and/or editor of 15 books, including Mysteries of the Snake Goddess: Art, Desire, and the Forging of History; Luxus: The Sumptuous Arts of Greece and Rome; and The Berthouville Silver Treasure and Roman Luxury.
Unless otherwise indicated, public events sponsored by ISAW take place on the first or second floor of our building. Both floors are accessible by elevator from our entry lobby, and an ADA-compliant bathroom is available in the basement level, which is also accessible by elevator. Our Lecture Hall is equipped with an FM assistive listening transmitter. A small number of personal receivers, compatible with headphones and hearing aids, are available for checkout from staff on a first-come, first-served basis.