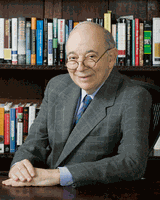 The Prehistory of Crete
Malcolm H. Wiener
Aegean Prehistorian
The lecture will first summarize quickly the history of Crete from the first known settlement in Crete c. 6900/6600 BC at Knossos to the collapse at the end of the Bronze Age c. 1200–1150 BC and the population nadir c. 1025 BC. We will then return to c. 1600 BC in order to focus on the nature and role of Knossian-controlled Minoan Crete and its seaborne empire at its zenith, considering among many other aspects the dependence of Minoan Crete on overseas sources for the copper and tin needed to create the bronze of the Bronze Age, the nature of the colonies, trading stations and ports of call required, and the cultural impact of Minoan Crete on the Mycenaean civilization of mainland Greece.
Malcolm H. Wiener is the author of 40 major publications in leading scientific, archaeological, and historical journals and books, and President of the Institute for Aegean Prehistory. His work has dealt with the rise, florescence, and collapse of ancient civilizations; Minoan Crete and Mycenaean Greece in the Bronze Age; interconnections between the Aegean, the Near East, and Egypt in the Bronze Age; the historicity of Homer; the chronology of the ancient world; and the problems of radiocarbon dating. He has been awarded the Gold Cross of the Order of Honor of Greece, the Ring of Honor of the German Academy in Mainz, the Athens Prize of the American School of Classical Studies at Athens, the Bandelier Award of the Archaeological Institute of America, and Chevalier de l'Ordre des Arts et des Lettres of France. Malcolm Wiener is the recipient of honorary doctorates from the University College London, Dickinson College, the Universities of Sheffield, Athens, Cincinnati, Arizona, and Tübingen, and is a fellow of the American Academy of Arts and Sciences, the Royal Swedish Academy, the Austrian Academy, the Society of Antiquaries in London, as well as a corresponding Member of the Austrian and German Archaeological Institutes.
Registration is required at isaw.nyu.edu/rsvp
Admission to lecture closes 10 minutes after scheduled start time.
Reception to follow.
Please check isaw.nyu.edu for event updates.
On a limited, first-come, first-served basis, ISAW is able to provide assistive listening devices at public events in our Lecture Hall. To ensure an optimal listening experience, we recommend that guests bring their own headphones (with a standard 1/8-inch audio jack) to connect to our devices. Please direct questions, comments, or suggestions to isaw@nyu.edu.