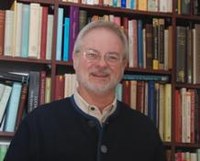 Plato's advice to Alexander:
Amir Khusraw's 'Mirror of Alexander' (1299)
Richard Stoneman
University of Exeter
"Plato's advice to Alexander: Amir  Khusraw's 'Mirror of Alexander' (1299)" introduces the poet Amir Khusraw and sets his poem in the context of the mirror-for-princes literature of the Arab and Persian Middle Ages. It considers the links of this tradition with the actual work of Plato, and also of Aristotle, and finds little direct connection. In the poem, Alexander visits the hermit Plato in his cave to obtain advice on rulership. Alexander is thus presented as a kind of philosopher-king, as much a Sufi and a sage as he is a monarch.
Dr. Stoneman was born just a few miles from Exeter and has been an Honorary Fellow in the Classics and Ancient History department since 1996. He spent thirty years as a classics editor, most of those years for Routledge; since retiring from that role in 2006, and returning from London to live in Devon, he has been taking an active part in university affairs, including teaching, research and a planned conference.
The core of his research interests have been the continuity of the Greek world and Greek tradition up to the present day. Dr. Stoneman has written anthologies and travel guides reflecting this interest. Since the early 1980s the main focus of his research has been Alexander the Great, especially in later legend. He has recently participated in several international conferences on the Ancient Novel and on Philip and Alexander. 
Besides Latin and Greek, he also speaks fluent German and adequate French, Italian and Modern Greek. He has also been taking classes in Turkish and Persian.
In 2010, he organised a conference at Exeter University, in conjunction with the Institute of Arab and islamic Studies, on 'The Alexander Romance in Persia and the East'.