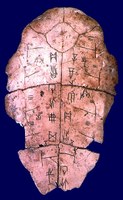 Institute of Archaeology, Chinese Academy of Social Sciences. Pg. 52 of Yinxu" put out by Shiji yican - Zhongguo "
The Huayuanzhuang Oracle-bones in Context
Symposium
Organized by Professor Roderick Campbell, this symposium will bring together leading epigraphers, archaeologists and historians to discuss the wider significance of the non-kingly Shang divinatory corpus discovered at Huayuanzhuang. The aim is to set this remarkable window into the life of a Shang prince into its contemporary historical and archaeological setting and combine it with a long term and larger multi-disciplinary perspective on divination and language.
Please email isaw@nyu.edu to register.
Program
10:00 Dedication to David Keightley and the Keightley Library at ISAW
Roderick Campbell (ISAW) and David Ratzan (ISAW Head Librarian)
10:15 Edward Shaughnessy (University of Chicago)
Remarks on the Huadong Oracle-bones and their Significance
10:30 Olivier Venture (EPHE/CRCAO)
Shang Oracle Bone Pits in Anyang: A Reflection from the Huadong H3 Pit and its Content
11:15 Coffee Break
11:30 Li Zhipeng (CASS, IA – Beijing)
Non-inscribed, Non-Elite Oracle-bones at Anyang
12:15 Tang Jigen (Anyang Archaeological Station, CASS, IA) - with Roderick Campbel (ISAW)
Anyang in the Time of Wu Ding

13:00 Lunch Break

14:00 Dong Shan (Peking University)
Ancient Chinese Divinatory Practice (in Chinese with English Translation)
14:45 Ethan Harkness (NYU, Gallatin)
Daybooks (rishu 日書) in the Chinese Tradition of Sacrifice and Divination–
15:30 Beate Pongratz-Leisten (ISAW)
Between Practice and Theory: Divination Texts in Mesopotamia
16:15 Tea Break
16:30 Ian Rutherford (ISAW & University of Reading)
Ancient Anatolian Divination
17:15 Rita Watson (ISAW)
Divination, Writing and Cognition
To RSVP, please email isaw@nyu.edu.