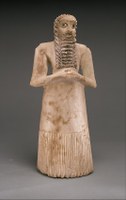 Standing Male Figure. Gypsum Alabaster; Early Dynastic I-II period (ca. 2900-2600 B.C.) Mesopotamia, excavated at Eshnunna (modern Tell Asmar). The Metropolitan Museum of Art, Fletcher Fund, 1940 (40.156). Image © The Metropolitan Museum of Art
Historical Perspectives on Sumerian Vistas
Seventh Annual Leon Levy Lecture Sponsored by The Peter Jay Sharp Foundation
Piotr Michalowski (University of Michigan)
We have reached capacity for the event and are no longer taking reservations. If you would like to be added to the waiting list, please email isaw@nyu.edu, and we will contact you if space opens up.
The cultures of ancient Mesopotamia and surrounding regions are often designated, in the West at least, as the "cradle of civilization." Such generalizations may seem attractive, but they often distract us from the complexities of history and obscure the differences between ancient cultures. The two major cultures of the region, Egypt and Mesopotamia, followed very different developmental paths with relatively little mutual influence and many of the resemblances that moderns perceive resulted from the use of similar technologies and not from the diffusion of ideas. The underpinnings of Mesopotamian culture were developed in the fourth and third millennia BCE and this is relatively late in view of the antiquity of human occupation of the Near East. These foundations are often labeled as "Sumerian" but this ethno-linguistic term has become suspect of late. This lecture will explore certain aspects of these "Sumerian" foundations, from politics to language and literature and offer new perspectives on the development of heterogeneous early Mesopotamian civilizations.
Additional funding provided by The Evelyn Sharp Foundation and the Leon Levy Foundation.
Seating is limited, RSVP required to isaw@nyu.edu.
For this event, entrance to the lecture hall closes when the speaker begins.
Piotr Michalowski is the George G. Cameron Professor of Ancient Near Eastern Civilizations at the University of Michigan. He is an expert on ancient Mesopotamia, with special emphasis on the earlier periods. He has written on languages, literature, politics, society and history and has explored a variety of subjects including poetics, geographical and historical imagination, as well as myth and music. His most recent book is The Correspondence of the Kings of Ur: Epistolary History of an Ancient Mesopotamian Kingdom (2011). He is currently president of both the International Association of Assyriologists and the American Oriental Society.
There will be a reception folowing the event.
This is a public event.
To RSVP, please email isaw@nyu.edu.