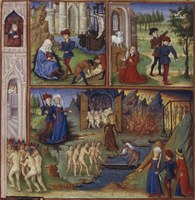 Virgil, Aeneid, Book VI. Miniature by Master of Jouvenal des Ursins, France, 1450 ca. Folio 174 verso, Scenes from Aeneas' trip to Hades. Cambridge, Harvard University, Houghton Library, MS Richardson 038.
DATE CHANGE To Hell and Back: Travels and Geographies of Roman Hades
Exhibition Lecture Series
Roberta Casagrande-Kim (ISAW)
Seating is limited and available on a first-come, first-served basis.
Admission to this lecture closes 10 minutes after the scheduled start time.
This lecture is sponsored by The Achelis Foundation.
There will be a reception folowing the event.
This is a public event.
To RSVP, please email isaw@nyu.edu.