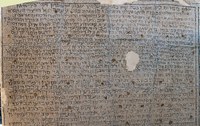 A late-antique synagogue inscription, found at Kibbutz Rehov in Israel. Israel Museum in Jerusalem. Photo by Talmoryair (Own work) [CC-BY-SA-3.0 (http://creativecommons.org/licenses/by-sa/3.0) or GFDL (http://www.gnu.org/copyleft/fdl.html)], via Wikimedia Commons.
An Introduction to Jewish Literature from Late Antiquity
Guest Lecture
Yehudah Cohn (ISAW Research Associate)
Between the 2nd and 7th centuries CE, a rather large body of literature in Hebrew and Aramaic was produced by Jews in Roman Palestine, and Sasanian Babylonia. The works concerned are inter-related, and shed light not only on the group that produced them (generally known in English as "the rabbis"), but also on the larger world in which their works took shape. The talk will provide an introduction to the works and genres concerned, and highlight the challenges entailed in making use of them for historical purposes.
Yehudah Cohn is a Research Associate at ISAW, and together with Eyal Ben-Eliyahu and Fergus Millar, recently co-authored Handbook of Jewish Literature from Late Antiquity (Oxford University Press for the British Academy, 2012).
This is a public event.
To RSVP, please email isaw@nyu.edu.