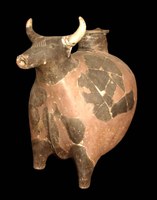 Bull-shaped Vessel from the Royal Grave" of Treli Cemetery (750-650 BCE). Photo courtesy of Mikheil Abramishvili. "
The Scythians in Tbilisi: Recent Excavations at Treligorebi
Mikheil Abramishvili (Ilia State University & Georgia National Museum)
Treligorebi is an ancient settlement in Tbilisi (Georgia). The site was inhabited from the Chalcolithic Period until the Early Middle Ages. During the Late Bronze Age and Early Iron Age it was the largest settlement in the Caucasus, occupying five natural hills stretching about one mile along the main road connecting the city with other regions of Georgia. The favorable geographical location of the site, on the crossroads of the east-west and south-north trade routes, was the basis of its privileged state throughout the Caucasus.
This lecture focuses on recent excavations at Treligorebi Settlement and related Treli Cemetery, proving the hypothesis of Scythian presence in Tbilisi during the 8th-6th centuries BCE.
Admission to the ISAW Lecture Hall closes 10 minutes after the scheduled start time.
This is a public event.
To RSVP, please email isaw@nyu.edu.