Staff Highlights
This article first appeared in ISAW Newsletter 16, Fall 2016.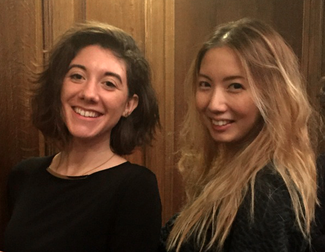 Andrea Chang and Maggie Pavao sit together at the 3rd floor reception area and perform administrative tasks to keep ISAW running smoothly.
Maggie Pavao is ISAW's Development Associate, beginning as a temporary staff member in October 2014 and becoming a full-time administrator in March 2015. Maggie is originally from Stony Brook, NY and earned her B.A. at Wheaton College (IL) in Art History with a minor in French. During her undergraduate studies, Maggie spent a semester at the Paris College of Art, with a focus on art criticism and graphic design. After completing her studies, she returned to New York and held positions in galleries and arts organizations, including the Lower Manhattan Cultural Council and the South Street Seaport Museum.
As ISAW's Development Associate, Maggie supports ISAW's fundraising team, coordinates and supports events, runs ISAW's marketing efforts, including ISAW's social media and designing promotional materials. In the Fall of 2016, Maggie began classes towards an M.A. in NYU's Program in Museum Studies. In her free time, Maggie enjoys biking, gardening, and exploring New York's many museums and cultural institutions.
Andrea Chang is a native New Yorker from Brooklyn and earned a B.A. at the University at Buffalo in Political Science, during which time she worked for the Attorney General. After graduation, she returned to New York City to model, and later held positions in fashion retail, the hospitality industry, and real estate. She eventually worked her way up to a licensed real estate salesperson in a top firm in Manhattan focusing on residential condo sales. Raised by academics—her father a professor emeritus at National Taiwan University and her mother a former high school teacher—Andrea found herself drawn back to academic life and joined the ISAW administrative team in April 2013 as Administrative Aide.
At ISAW, Andrea supports the administrative and financial functions of ISAW: facilities, travel, food service, and procurement. Andrea began as a part-time employee but is now a full-time staff member, providing support to all members of the ISAW community. Outside of ISAW, Andrea's interests lie in costume and interior design, sustainable living, and carpentry.