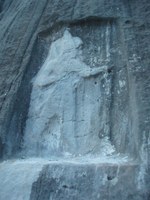 The Hieroglyphic Luwian relief and inscription at Karabel, on the road between Ephesos and Sardis. The decipherment of the inscription helped to establish the historical geography of western Anatolian in the Late Bronze Age. Late 13th century BCE.
Visiting Research Scholar Lecture: Dynamics of Acculturation and Integration: the Aegeo-Anatolian Interface in the Second and First Millennia BC
Alexander Dale
For over one thousand years, from the Bronze Age down to the Hellenistic period, Greek and Anatolian speakers lived alongside one another in the East Aegean and Western Anatolia. Recent developments in our understanding of the history and material culture of the area, as well as in our understanding of the Anatolian language group, have made it possible for the first time to attempt a systematic analysis of the blending of Greek and Anatolian culture at this dynamic point of contact between east and west. This paper will offer a general overview of the current state of research into the Interface and will bring new evidence to bear on the question of the nature and extent of integration and acculturation between Greek and Anatolian civilizations. The end result will provide a new perspective on the development of the early Greek world, as well as the privileged position of second and first millennium Anatolia as a locus of cultural diffusion and transference between Greece and the Ancient Near East.
There will be a reception folowing the event.
To RSVP, please email isaw@nyu.edu.